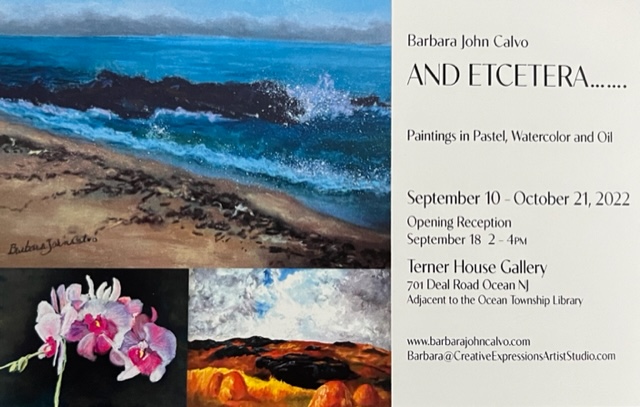 ---
Congratulations to our members for their achievements in the Monmouth County Senior Art Show. Click here for the list.
---
The Art Alliance in Red Bank is hosting member Steve Lewis's metaloids in their window space for September.
So, get ready for fall!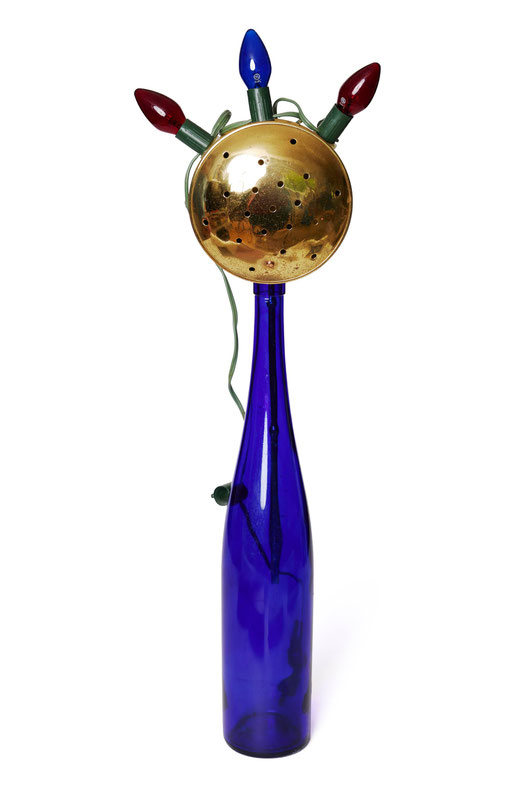 ---
Thompson Park Summer Nights Exhibit – June 3 to August 20
Congratulations to our members:
Bobbie Carey
Cathy Delano
Johanna Ericson
Caren Flynn
Gwynneth Green
Laura Mandile
Patricia Meko
Joan Myers
Mary O'Malley-Joyce
Leona Tenebruso-Shultes
2022 Colors of Humanity "Botanicals" Show
Michael Scherfen was selected as Best of Show Winner for Waiting for Monet.
Terner Gallery Show 
Lois Kiely has an artwork in this show. Opening is July 31, from 2PM to 4PM.
---
July 2022
Congratulations to Ellen Rubinstein for her Navesink River photo which was selected by the Journal Magazine for the July cover of its Rumson/Fair Haven/Sea Bright issue.
Congratulations to ASMC member photographers who won awards at the Wainright house Museum and craft center in June:
First Place: Steven Meko for Changing Direction
Third Place: Marilyn Baldi for Passage Carnac
Merit awards went to Jim Powers for Yellow House, Blue House and for Still Life.
Also in the show were Vicky Culver, Johanna Ericson, Vince Matulewich and Dana McKay
November 12, 2021
Helen 'Eleni' Antholis was accepted as an Exhibiting Member of the Guild of Creative Art, Shrewsbury NJ for her pastels.
November 2021
"Ghost Town #3" by Marilyn Baldi was awarded first place professional photography in the NJ SCAN Exhibit.
"Ceiling of Kalon" received an Art Alliance award in the 27th Annual Jean Townsend Exhibition .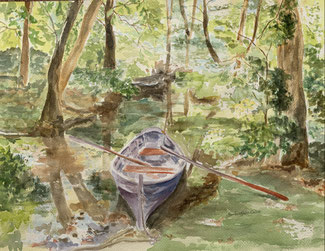 SEPTEMBER 2021
Congratulations to member Pat Meko for her mosaic in the 'New Normal- Working through the Quarantine' Show at the Payne Gallery, Moravian University, Bethlehem, Pa. Sept 9 thru Oct. 17th.
SEPTEMBER 2021
Congratulations to Randy Mayer. Her Drawing of "Marcia" is hanging at the Salmagundi Club in NYC and has won the "David Wu and Elsie Jack-Key Memorial Award".  Also, her Drawing, "Whiskered and Wooly" has won the "Award of Excellence" at the Canterbury Art Festival at St. Georges in Rumson, NJ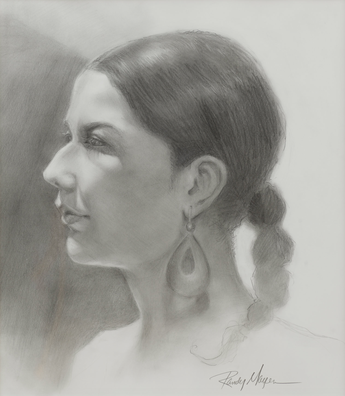 JULY and AUGUST 2021
Marilyn Baldi has 3 photographs accepted into the "Geometric" exhibit at the Gallery at Thompson Park, Lincroft, NJ July 9, 2021 through August 28,2021.
At the Salmagundi Club 47 Fifth Ave @12th St, NYC and on line at Artsy, Marilyn Baldi has four photographs in the Non-members Photography Open Exhibition July 26, 2021 through August 6, 2021.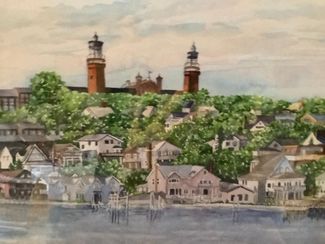 Join us as we celebrate member Sue Sherrill's 100th birthday on April 13! This is one painting of hers, Twin Lights. It is in our "Oldies But Goodies" Show - March 2021. Thank you to Sue VanVolkenburgh, Lois Kiely, Stephanie Frank, and Lynne Roemer for preparing this celebration! For more paintings and her bio, go to the tab: Celebrating Sue Sherrill's 100th birthday
---
August 7, 2020
Congratulations to our members who participated in and were awarded recognition for their artwork.
Monmouth County Senior Art Show Participants and Awardees 2020
Hillary Binder-Klein
Barbara John Calvo
Linné Grant
Guido Guazzoni
Sol Hara
Erika Hogan
Sylvia Keusch
Mary Kliauga
Elaine Lukacs
Dana McKay
Patricia Meko
Joan Myers
Joyce Sims
Helen Antholis 1st place Pastel professional 
 Ernie Antholis Honorable mention Pastels, non-professional
 Marilyn Baldi 1st place photography, professional
 Johanna Ericson Honorable mention photography, professional
  Linda Hart - Best in Show! 1st place watercolor, professional
  Beverly Hertler 1st place mixed, professional
  Vince Matulewich 2nd place photography, professional
  Ellen Rubinstein 3rd place photography, professional
  Theresa Trocchia 3rd place watercolor, non-professional
   Lois Wilkes 3rd place mixed, non-professional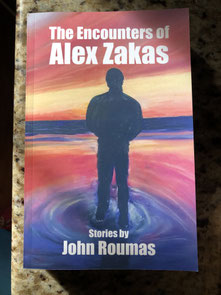 Congratulations to Helen Antholis for her artwork being selected for the cover of "The Encounters of Alex Zakas" by author John L. Roumas. 
---
At the 8/15/19 Awards Ceremony and Reception at the Monmouth County Library Headquarters, eleven of our members (out of 97 entrants) were awarded prizes for the artwork they submitted to the 2019 Monmouth County Senior Art Contest and Exhibition sponsored by the Monmouth County Board of Chosen Freeholders, Monmouth County Office on Aging, and Monmouth Arts.
Congratulations to our members! First place winners go on to the statewide competition. Good luck to Johanna, Michael, Barbara, Sol, Ellen, and Marie!
Acrylic Professional 1st Place: Johanna Ericson
Acrylic Non-Professional 3rd Place: Patty Chasey
Watercolor Professional 2nd Place: Linda J. Hart
Drawing Professional 1st Place: Michael Ferrara
Drawing Non-Professional 3rd Place: Theresa Trocchia
Pastel Professional 1st Place: Barbara John Calvo
Pastel Non-Professional 1st Place: Sol Hara
Photography Professional 1st Place: Ellen Rubinstein
Photography Professional 3rd Place: Marilyn Baldi
Photography Professional Honorable Mention: Lois Wilkes
Print Professional 1st Place: Marie Maber
Congratulations to all!
---
Two members of the Art Society of Monmouth County took top honors at the Guild of Creative Art's 17th Annual Open Juried EyeSights 2020 Photography Show. Vince Matulewich was awarded Best in Color for his "Decorative Mum - Indian Summer" and Marilyn Baldi was awarded Best in Monochrome for her "Solo Shot II".  They can be viewed at the Guild until March 25, 2020.
---
---

Congratulations to Lois Wilkes on Foggy Day being selected for the AARP Calendar!
---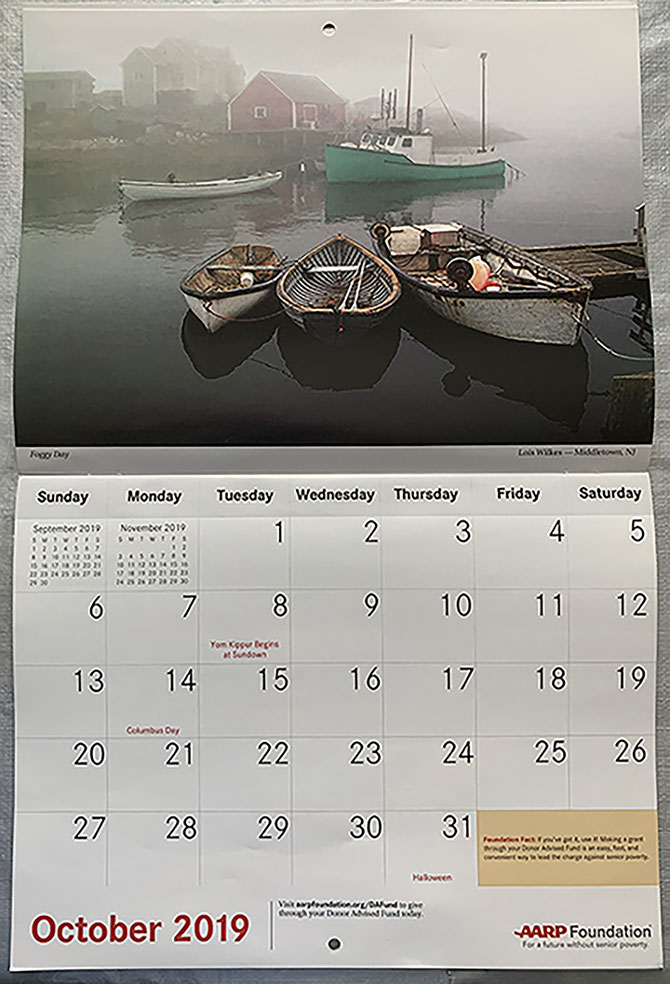 ---